Listen to it FREE (along with my other books)
on Audible with a 30-day free trial.
"Without a doubt, if I had read Joe's book back in 1989, it would have accelerated my progress and potential as a game designer by decades."
                                                                                                                                                                        – Jamey Stegmaier, designer of Scythe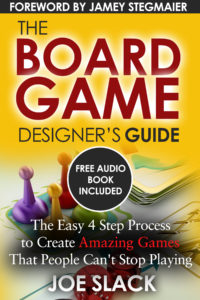 Only $9.99 US for the e-Book or $19.99 US for the paperback.
Both versions include the FREE AUDIO BOOK as well!
eBook includes FREE Guide on The Best Questions to Ask During Playtesting (previously only available to course members and only included when you get it here)
Amazon Rating
 
Do you have a board game idea, but don't know how to get it out of your head and onto the table? Have you made a game, but now it's just sitting in a closet somewhere? Have you been working on your game for a while, but you don't know what to do next?
Discover how to create your own game, make a memorable experience for your players, and be confident knowing how to share your game with the world in the way that's right for you.
The Board Game Designer's Guide will give you all the tools and inspiration you need to create the game you've always wanted to play. It's the definitive guide to getting started in board game design.
"If you have a game idea and [are] wondering how to bring it to life - this book is your definitive first step."
– Artem Safarov, designer of smash hit Unbroken
"Having something like this two years ago when I first started to get into the hobby would have been a big help."
– Matthew Hester, game designer