Game Design
The 7 Steps to Delivering Your Kickstarter Board Game
Brandon Rollins is a game designer, publisher, and fulfillment specialist. He's got a lot of experience with fulfilling Kickstarter campaigns, so I asked if he would write an article on what to do after you manufacture your game so that you can start delivering your Kickstarter board game. I know you'll find this helpful. Make sure to also check out his bio below and his amazing blog at Fulfillrite!
…
After months of developing your board game, and many months more of marketing and then running your campaign, your game is now finally printed! It's satisfying to see all your hard work pay off in the creation of a physical product.
But, of course, no one can appreciate your board game until you've gotten it into their hands. You've manufactured your board game…now what?
In this post, I'll talk about seven basic steps that you need to go through in order to take your games from the manufacturer to the backer.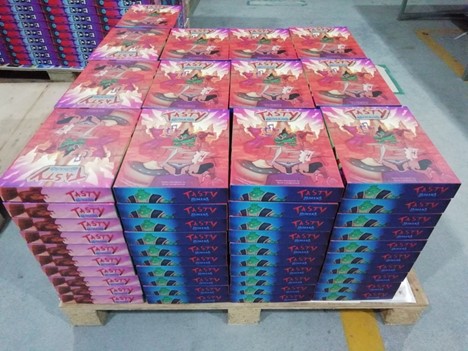 Prerequisite: Make sure your game passes safety tests.
Before we can get to the seven steps, there's one thing you need to make sure is sorted before your games leave the manufacturer.
Board games are, in the eyes of many countries' customs authorities, toys. Anything that can be remotely thought of as a toy is subject to all kinds of scrutiny because countries naturally want to protect their citizens – and especially their children – from harm.
You might think board games are harmless, but you have to be careful with that assumption. Toy testing is actually a stunningly complex and thorough process.
For that reason, you need to make sure your board games comply with the safety regulations ASTM F963 (for the United States) and EN71 (for the European Union). This is how you get the all-important CE mark on your board game box.
All you have to do is ask your manufacturer to comply with safety tests, have the testing done, and provide the certificate to authorities if requested. There is a cost, usually around several hundred US dollars, but it's a lot cheaper than having all your games impounded at the border.
One more note: putting "14+" on the box can exempt your games from child safety testing, but make sure your game genuinely is for ages 14+. Customs authorities sometimes don't take the age ratings at face value.
1. Find a warehouse.
Before you start the next phase of the Kickstarter fulfillment process, you will need to decide where games go before they leave the manufacturer. Games will need to be sent somewhere where orders can be fulfilled.
You have two broad options: find one or more fulfillment warehouses or self-fulfill. Choosing between the two is fairly complex, and I discussed it more in a previous post.
If you're self-fulfilling, when it comes time to book freight, you will simply have your games shipped to your home or office. Otherwise, you will have your game shipped to a fulfillment warehouse.
Choosing an order fulfillment warehouse can be complex, but here is a good guide to help you get started. Additionally, here are some red flags to look out for when choosing a fulfillment company.
2. Book freight.
Once you have figured out where the games need to go next, you need to coordinate the transportation of your games from one place to another. Unfortunately, you cannot simply send 1,000 or more games in the mail, so you have to book freight!
Booking freight isn't as hard as it used to be, thankfully, as there have been great innovations in the industry lately. You now have two main options when it comes to booking freight. You can either hire a freight broker to handle it for you, or you can use a freight marketplace.
In either case, whoever is coordinating freight will choose transportation companies, determine where the freight will be picked up and dropped off, when the shipments will occur, and how much it will cost.
Here is a video on how you can book freight if you choose to do that yourself:
3. Clear customs.
Once freight is booked, your responsibilities will lighten up a bit. In all likelihood, you will be shipping by sea and that process will take several weeks, and possibly a few months. You'll be waiting for a while.
However, when the games ultimately come ashore in their destination country (or countries), they will need to clear customs. At this point, you will almost certainly be charged import taxes based on the wholesale value of the games. You will need to pay the bill before they can be released.
There is also a high likelihood that your games will be subject to customs exams. This happened to me when shipping a board game in the normal part of 2020. My games were run through an X-ray machine and it cost about $600 and delayed the shipment by about a week. You may encounter similar issues, or none at all – it's hard to say with customs. Just be prepared for the possibility that additional tests may be required.
4. Collect backer shipping information.
If you have not already collected backer addresses, you will want to do so before the games clear customs. That way, you can transfer the backer addresses and order information to your fulfillment center of choice, or – if self-fulfilling – simply get organized before the games show up at your home.
You can do this by using Kickstarter's default survey system or your pledge manager of choice. The important thing is just to collect the information in a timely manner. (Don't forget to collect phone numbers for international backers!)
5. Receive the shipment.
When the games clear customs, they will enter their final leg of transport. This often consists of short-haul freight trucking from the airport or seaport to your warehouse (or home).
If you're working with a fulfillment warehouse, your responsibility is very simple. Make sure you notify them in advance that the shipment will be arriving. Tell them when it's coming, how much is being sent, how much it weighs, and so on.
Warehouses have forms for this process. Fulfillrite calls it an Advanced Shipping Notice. ShipBob calls it a Warehouse Receiving Order. Regardless of what your partner calls it, just turn it in on time.
And if you're fulfilling yourself? Just make sure you're around when the shipment arrives. Have some gloves and a box cutter handy. You'll be hauling a lot of boxes and probably cutting plastic too.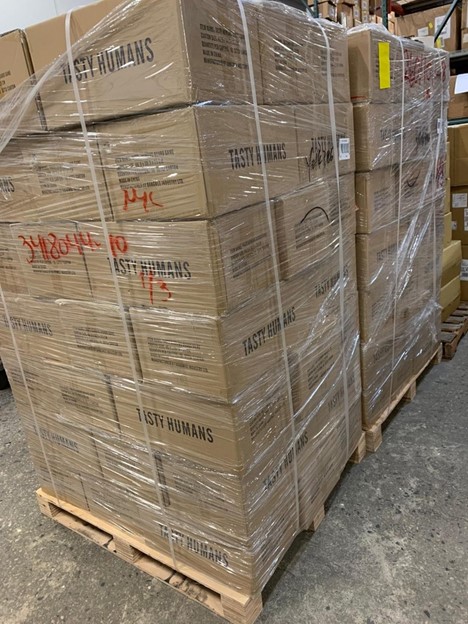 6. Fulfill orders.
Once the games arrive in the warehouse, then things start to get really exciting again! After the initial receiving period, which can take anywhere from a few hours to a few days – depending on the size of the shipment and the time of year – a fulfillment warehouse will start filling orders.
With the information you provided from backer surveys, fulfillment staff will know what items to pull from shelves and pack in boxes. They will make sure the game is nice and secure in its packaging, then seal the box, and apply postage.
Postal carriers including UPS, USPS, FedEx, DHL, and sometimes others, will visit the warehouse and then pick up all the individually packaged orders. Then, it's just a matter of working games through the mail system!
If you self-fulfill, the process is basically the same. You will pack each package for each backer, print and apply postage, and drop it off at the post office or perhaps a UPS store or something like it.
7. Handle customer service inquiries.
At this point, you can consider your board game fulfilled! That doesn't mean the work has totally ended, though. In addition to responsibilities such as answering backer questions about rules and keeping a good online presence, you will occasionally have to troubleshoot issues with shipping.
Even if you hired an absolutely perfect fulfillment partner, the fact is that 1-3% of shipments will be lost in the mail or badly damaged in transit. Be ready to send replacement copies on a moment's notice.
If that 1-3% figure makes you wince, consider paying for shipping insurance. For expensive board games in particular, paying the postal company (or a third party) a little money to reimburse you for your lost or damaged shipments can be well worth the cost.
Final Thoughts
Once your game is manufactured, your primary responsibility is to get it into the hands of backers. Fortunately, there are lots of companies that can help you do that, ranging from freight companies to fulfillment centers to mail carriers.
It is complicated, yes. But if you plan in advance, you can dramatically reduce unnecessary complexity and be left with enough energy to truly appreciate how much you've accomplished by Kickstarting a game. Then when the games arrive, you can celebrate alongside your backers!
Overwhelmed with your Kickstarter? Check out our free Kickstarter checklist. It lists everything you need to know to get your Kickstarter campaign shipped.
Need help fulfilling your orders? Click here to request a quote from Fulfillrite.

Brandon Rollins is a Marketing Consultant at Fulfillrite. His main areas of expertise are online marketing and supply chain management.