Game Design
How to find a job in the board game industry [Free excerpt from my upcoming book]
While my upcoming book, The Board Game Designer's Guide to Careers in the Industry, is being reviewed by my editor, I thought I would share with you the unedited introduction from the book.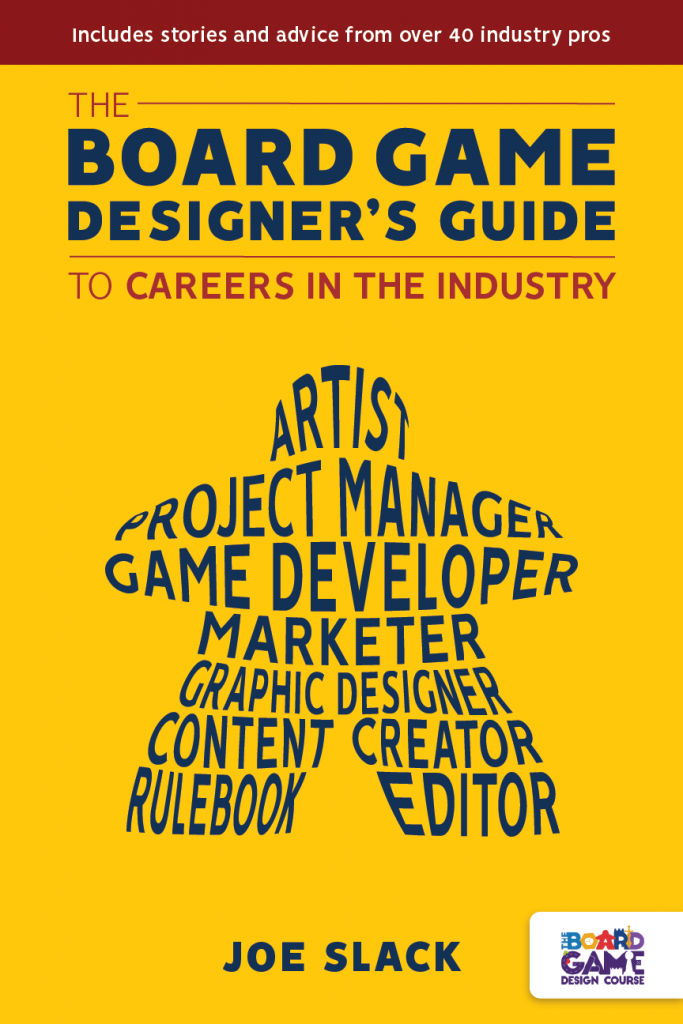 That way you can get a feel for what you'll discover when you read it. So, here you go:
It seems that almost every board gamer that contemplates working in the board game industry wants to be a game designer.
I get it. You're able to make something awesome that thousands or even millions of people will enjoy. You get credit for making the game. It's an amazing creative pursuit.
But there are so many other roles in the board game industry that are often overlooked or are not nearly as well known.
Just like every member of a rock band can't be the charismatic lead singer, every game needs more than a designer to bring it to life. You need an amazing lead guitarist playing those blistering solos. You need a great rhythm section, delivering a funky or melodic bassline and thumping drums. You may also have a rhythm guitarist, keyboard player, and other members to round out the sound. Plus, some members contribute background vocals, write lyrics and music, and do a whole lot more.
Suffice it to say, the whole band is never just one person.
The same goes for a great board game. Many hands are involved in the process from that first idea until it arrives in the customer's hands.
This book was inspired by a recording of a talk that Scott Gaeta, CEO of Renegade Games, held at Proto TO, a local Toronto game design event a few years back. In the session, Scott talked about all the other important jobs in the industry besides game design, including some big gaps that need to be filled by people with the right mix of skills and experience.
Consider for a moment all the things that go into creating and publishing a game:
Game design
Playtesting
Blind playtesting
Development
Rule Writing
Story Writing (in some cases)
Art
Graphic Design
Promotion
Marketing
Reviews
Product launch
Publishing
Manufacturing
Shipping
Fulfilment
Sales
Customer Service
And the list goes on.
The 3 traits Scott specifically mentioned that are the most important for those looking for a career in the board game industry are:
Experience
Work Ethic
Networking
A lot of jobs in the industry are not advertised. Companies are looking to fill roles with just the right people, based on their reputation and work ethic. Sometimes you have to show them just how invaluable you are and make them wonder how they ever got along without you!
Sure, one person could do all (or at least most) of these things, but are they really going to be able to do every one of these tasks well? We all know the term "Jack of all trades, master of none." It definitely is important, as you'll see, to be good at (or learn to get good at) multiple things, but we also have to realize there are only 24 hours in a day and one person can't do everything.
That's why it's so important to recognize that there are so many important roles in the industry that go way beyond game design.
In this book, you'll discover roles in the industry you didn't even know existed. Not only that, but also what skills, experience, and education are necessary to land these jobs and how you can use your own know-how to land one of these roles and start working in the board game industry.
I'll cover everything from freelance game design and development to working in-house for a publisher (and all the many roles needed there) to manufacturing to shipping to retail and so much more. There are so many opportunities, and soon you'll know exactly where you can fit in within this amazing industry.
I've reached out to over 40 people working in the industry, from publishers to rulebook writers to content creators to other ancillary businesses to find out how they landed their job, what helped them get there, and what roles they feel are really needed and are the hardest to fill. With this knowledge, you'll know exactly what gaps exist and how you can help fill them, jumpstarting your career in the board game industry.
Haven't you always wanted to know what it would be like to work for a publisher? Or what it's like to be a freelance game designer, developer, or artist? Or whether you can still work on your own games once you've signed that contract to work full-time for a publisher?
You'll discover the pros and cons of working in-house vs. freelancing, as well as how others got into these roles and what they have learned.
So, join us as we take a deeper look into working in the board game industry and how you can use your own experience, education, and skills to be part of the industry.
I hope you found that introduction interesting.
What role have you been thinking about within the board game industry?
Please leave a comment and let me know!