Game Design
Kickstarter Lessons: Always be professional and polite (even when your backers aren't)
Last week, the discussion was more of a technical nature, as we talked about how to ensure your game gets printed and manufactured exactly to your specifications. This week we're going to look more at the personal side of running a Kickstarter campaign, namely, how to deal with negative or hostile backers.
Backers come in all different sizes, shapes, and temperaments.
Many you'll never hear a word from. They just quietly back your project and wait for its arrival.
Others show tons of support and positivity, making you want to go above and beyond for everyone who backed your campaign.
But sometimes you'll have to deal with an angry backer. Sometimes they are upset for legitimate reasons, such as a change you had to make to the game after it funded or a very delayed delivery. At other times, you may have no idea what you did to upset them. They could be having a bad day or were already upset about another campaign they backed and decided to take their frustration out on you.
If one of your backers really gets out of hand, you have the ability to report a comment or give them a refund so that you won't have to deal with the situation any further, but in most cases, an angry comment can be handled by being polite, professional, transparent, and addressing any concerns your backer has.
I'm going to share with you some actual comments and responses from my Relics of Rajavihara campaign so that you can see how I was able to defuse some potential situations. I will also share some positive comments I received from communicating well with my backers and keeping them in the loop, whether the news was good or bad.
An Issue with the Pledge Manager
This was my first successful Kickstarter campaign, as well as the first time I'd ever used a pledge manager. So, there were some things I had to learn and I made some mistakes. I also had to deal with issues that were out of my control.
For example, this backer had his payment rejected initially. The pledge manager claimed it would take his Diner's Card, but it was rejected. He was easily able to use another card and the payment when through, but this irritated the individual.
Then, I sent out a reminder to backers reminding them to pay for shipping and add their address. It was unintentionally sent to a few backers who had already done this, as I was including only those with payment issues and inadvertently included those who had since corrected these issues (I realized afterwards that filtering for payments not processed failed to exclude subsequent corrections). Most people would just ignore the email or double-check that everything was good and be done with it. However, this backer became quite upset.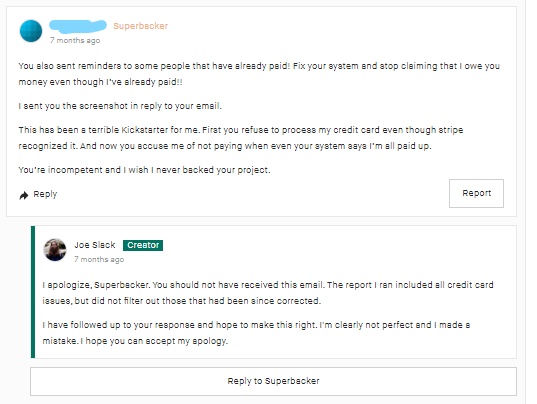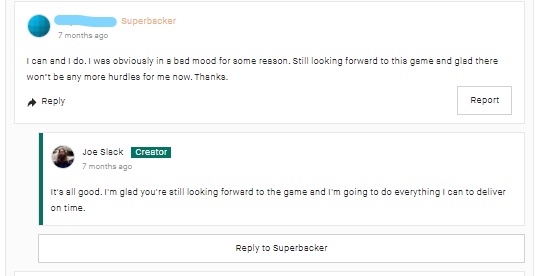 Fortunately, as you can see, I was able to resolve this quickly and relieve this backer of any concerns.
Late Delivery
Most Kickstarter campaigns deliver later than expected. It's unfortunate, but it's true. Art, manufacturing, and shipping can all take much longer than you anticipated. Especially on your first campaign.
It's how you handle this and communicate with your backers that matters. They will usually be quite understanding if you are honest, transparent, and keep them updated regularly.
In this case, I had been making regular updates and was going to be providing another one shortly. Sometimes an eager backer's excitement can come out in frustration though.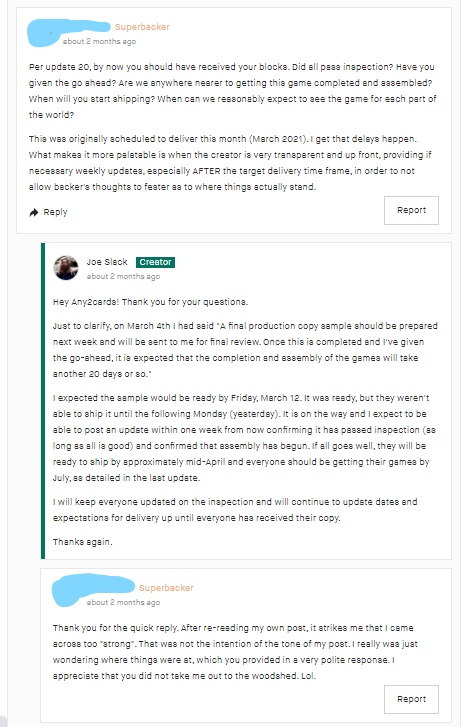 Sometimes, a simple clarification is all that is needed. This backer was happy with my polite response and hasn't had any further complaints, as I have continued to keep everyone updated on shipping quite regularly. 😊
Keeping Backers Up to Date Will Keep Them Happy
In most cases, providing your backers with regular updates, being honest and transparent, and showing that you're doing everything you can to deliver a quality product in a timely manner is the best thing you can do to avoid negative comments.
Sometimes you'll even receive unsolicited positive comments like these: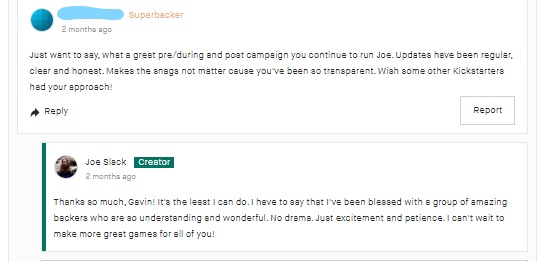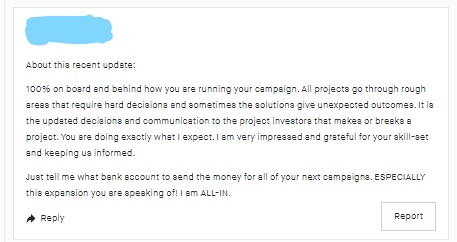 These positive, supportive comments will show you that you are doing everything you can and that you have some very supportive backers in your corner, which makes it all worth it!
What Kickstarter campaign have you experienced where the creator was really great with providing updates or handled a potential issue with grace?
Please share your story by leaving a comment.