Game Design
Tabletop Simulator Alternatives
Tabletop Simulator (TTS) is probably the most popular sandbox for creating and playing tabletop games online. However, it's far from perfect. So, if you're looking for Tabletop Simulator alternatives, there are other options available to you.
I've played around with a few TTS alternatives, and while I'm far from an expert on any of these platforms, I wanted to share with you some other options that you might want to consider.
I also recently had the opportunity to playtest a number of games on each of these platforms at the excellent Protospiel Online. So, while I haven't created games on each of these platforms yet, I can at least speak based on my perspective as a playtester.
Tabletopia
Tabletopia has been around for a while and is probably TTS's main competitor. It is a browser-based platform that's decent for simple games involving cards and not too many other components.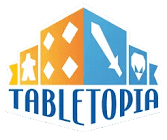 One of the biggest benefits of Tabletopia is that it's free. Well, sort of…
You see, it's completely free for players, which along with the fact that it is browser-based and there's nothing to install, makes it easier to find or invite players to playtest your game. However, it's only free for creators hosting one game. So, if you have more than one game you'd like to playtest, you're going to have to pay an ongoing monthly fee.
It's also a pretty simple platform, so it can't handle things like scripting or anything else very complex. So, it's a good solution for creators with one simple game or those with multiple games who are willing to pay the monthly fee.
Tabletop Playground
Tabletop Playground (TTP), like TTS, runs on the Steam platform. It can also be purchased for a one-time cost, with no ongoing fees, and is slightly cheaper than TTS.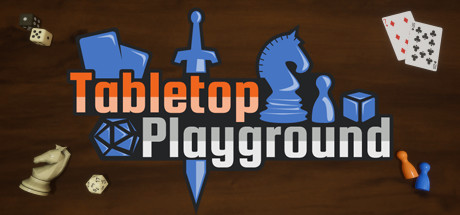 Of all the alternatives I have tried or looked into, TTP is the platform that most closely resembles TTS. You can even import your TTS games directly into TTP, which makes transitioning between platforms a lot easier (although the import doesn't work for everything). There are a lot of similar features and shortcut keys, with some features even going beyond what TTS has available.
You can also do scripting in TTP. It uses the more common JavaScript, while TTS employs the lesser-used Lua language.
This is a relatively new platform (introduced in 2020), so it doesn't have nearly the same user base as TTS or Tabletopia, but I expect this will grow over time.
I've started to use TTP recently and I hope to write a more in-depth article on how to create your own game in TTP sometime in the future. However, I did find a few things that were either frustrating or unintuitive about this platform that I can share here.
The most frustrating aspect is that if you forgot to upload even one item, you must close out a game, upload the item, add it to the mod, and then re-load. In TTS, you can simply add new components on the fly, even if you haven't uploaded them previously.
You also need to either ask everyone to subscribe to your game or have them download the package. If you go the download route, they have to re-download if you make any changes.
So, there are some nuances here that aren't ideal, but it is still better than some of the alternatives.
Screentop.gg
Screentop.gg is a 2D tabletop gaming platform, similar to Tabletopia in many ways. It works well for simple card games and other games with few components that can be played using a top-down view.
The biggest benefits of Screentop are that it is browser-based and free. But it suffers from the same limitations as Tabletopia and many other platforms in that you can't do any scripting or anything else complex.
I played a number of games on this platform during the event and prior to this and I must say that it is a pretty good platform for 2D tabletop gaming. Many creators were also very happy with the platform and the ease of creating and updating games there.
So, Screentop may be a good option for simple games, including card games, that you want to playtest without having to spend any money.
Playingcards.io
Playingcards.io is another platform that allows you to create and play card games in your browser, similar to Tabletopia and Screentop.

However, I found this platform to have a lot of limitations. Nobody was even able to find a way to zoom in on small text during a playtest, which made it very difficult and not the best experience.
I would recommend Screentop.gg over Playingcards.io if you are looking for something free, browser-based, and easy to use based on my limited experience using the two platforms.
Other options
I've personally played games on all the platforms listed above.
However, there are plenty of other options out there as well. I can't vouch for them or provide all the details for these platforms, but I will share the names, links, and a few details for you in case you're interested in learning more:
Board Game Lab – I don't know much about this one. It appears that you can sign up to try a preview of this open sandbox software for online tabletop game creation.
Vassal – This is a free, open-source software that allows you to build and play online adaptations of board games and card games. It appears to be more focused on war games.
GameStructor – This is a platform where you can create and play simple online board games using pixel art.
Given that there are so many other alternatives that are more widely used and effective at what they set out to do, I'm not sure that I will be investing any time in learning these other platforms.
Also, the good folks at Protospiel Online put together this handy reference sheet for shortcuts that you can use for some of these platforms, which I wanted to share with you with their permission: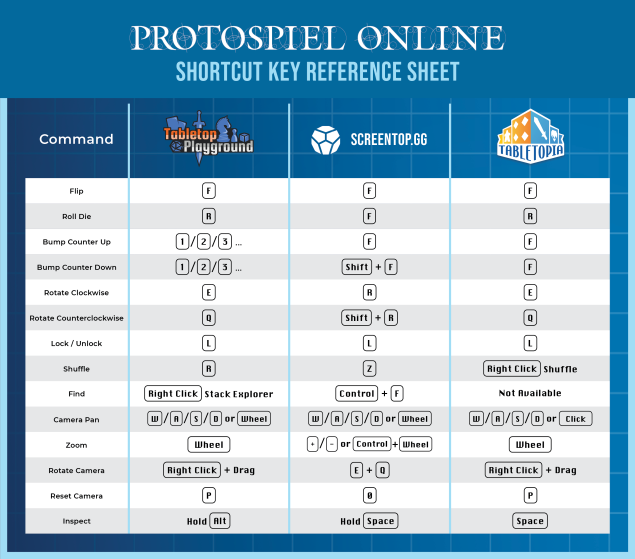 If you've tried any of these platforms, I'd love to know what you thought of them.
What platforms, from the ones above or others you have discovered, have worked well for you?
Please leave a comment and share your experiences.