Game Design
The Power of Partnerships
There are so many different methods you can use to build a following and promote your campaign.
Live and virtual demos.
Paid ads.
Reviews.
Getting involved in the community.
And so many more.
But today I'm going to talk about a really powerful method that very few people use or even understand. This one method alone really moved the needle on my campaign for Relics of Rajavihara.
I'm talking about partnerships. Let's dive in.
What is a partnership?
Generally speaking, a partnership is an agreement between two or more parties with some mutual benefits.
What does this mean for a game designer or a publisher? More backers and more games sold.
In the case of my Kickstarter campaign, it meant that another creator mentioned and promoted my campaign to her followers. In her most recent update, Crystallo creator Liberty Kifer posted some pics of her playing the prototype and mentioned how much she liked the game. She even included a link to my campaign page.
Did it help? Look at this graph and you tell me: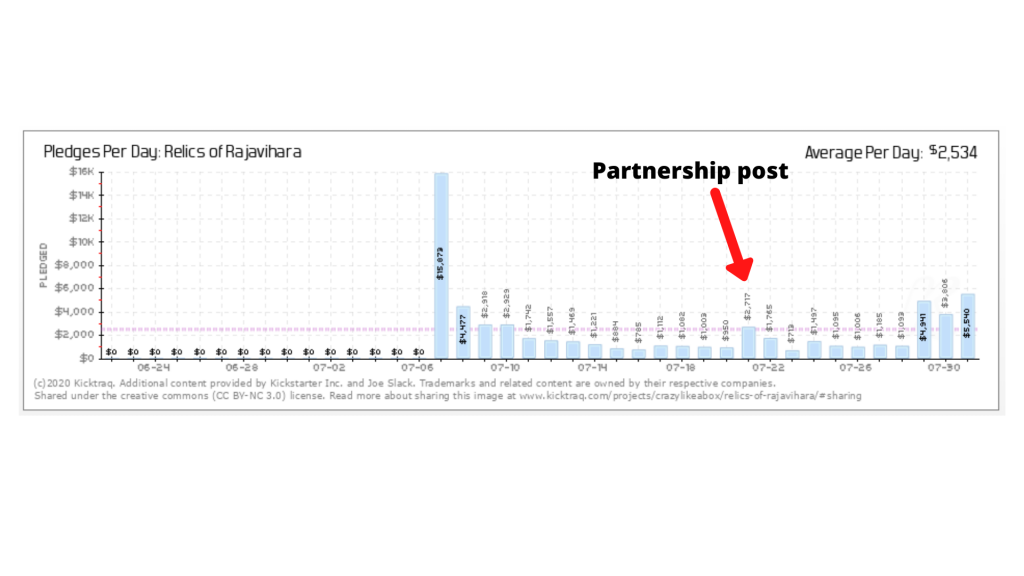 Just one mention – to the right audience – and boom! A sudden influx of backers.
How to reach out to build a partnership
Just like pitching a game to a publisher, when you're thinking of reaching out to a partner, you have to make sure they are a good match.
In my case, I was looking at other creators who had success on Kickstarter with solo games. Even better would be if they had success with a game that was kind of puzzly, like Relics of Rajavihara.
I approached many potential partners, knowing full well that only a small number would even reply. I was also contacted directly by one creator, which was a really nice feeling.
The first thing you want to do is make it about them. WIIFM. What's in it for me? If you just ask them to promote your game, you're likely going to be met with crickets. But if you sweeten the pot a little, you're likely to get a better response.
Maybe you can help promote their game as well. If they have a game on Kickstarter at the same time that you're genuinely excited about, you could ask if they'd mind you promoting it, or just go ahead and promote it and let them know. You'll be surprised how well the law of reciprocity works. Quite often, they will return the favour if they think your game is equally awesome.
Or you could approach them about a potential cross-promotion.
If they've had a previous Kickstarter success, you could ask if they'd be interested in a referral fee in exchange for mentioning your game to their audience. They might even offer to promote your game for free out of the kindness of their hearts!
Just make sure it is genuine. You don't want to promote a game to your audience that looks like it was thrown together in 15 minutes. It has to be another project you truly believe in.
The point is, if you don't ask, you'll never know.
Return the favour
It goes without saying that you should thank anyone who helps you to promote your game. You could even offer to send them a free copy of your game as a thank you.
But you could go one step further.
You could offer to help them out in the future. If they are a creator that you admire, maybe you could help to promote their game to your audience.
If you've run a successful campaign and treated your backers well, you have earned their trust. If there's another game out there that you are honestly excited about, there's nothing wrong with sharing this game with your followers. They might really like the look of the game and even thank you for letting them know.
This is just one way you can repay someone who has helped you out when you needed it.
What other methods of boosting a Kickstarter campaign have you seen? Please hit the comment button below and let me know!