Game Design
A new must-hear board game design podcast
There are lots of great board game podcasts out there. And the number and quality of board game design podcasts is also growing.
You may already know about the Board Game Design Lab Podcast (one of my personal favourites that I've mentioned in the past), hosted by Gabe Barrett, that discusses an interesting topic in board game design each week.
There's also Ludology, a podcast that gets into the "why" of gaming. This one is hosted by Gil Hova and Emma Larkins, with appearances by Scott Rogers.
But here's one you might not know about (but you should)…
It's called Board Game Binge. This podcast is hosted by James Staley and with episodes hovering around 30 minutes long, it's a nice, short format that you can always find time for.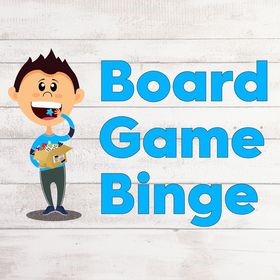 It's actually recorded live and is streamed over the Board Game Binge Facebook Group, which you can join and keep up to date.
Here is how James describes the community:
Board Game Binge is a Facebook group dedicated to Board Game passion. We strive to provide bite-sized bingeable content through interviews, tutorials, workshops, giveaways and anything that may be relevant. We welcome developers, designers, meet-up organizers, publishers, backers and anyone who loves board games.
With over 20 episodes posted in just the past 2 months alone, there is plenty of great content here, and I concur, it's all binge-worthy.
Some of James' recent guests include:
Andrew Birkitt from Atheris Entertainment – Entrepreneur, designer, and publisher
Travis Jones – Designer of Stonemaier Games' latest release, Pendulum
Chandler Copenhaver from Crowdox pledge management software
David Bloomberg – Organizer of multiple gaming conventions
James even interviewed me back in July when my game, Relics of Rajavihara, was up on Kickstarter.
Check out the Board Game Binge Facebook Group and I'll see you there!
Cheers,
Joe