Game Design
How to Run Ads for Your Kickstarter Campaign That Will Get You Backers
Last week I talked about running a contest to promote your upcoming Kickstarter campaign.
This week, as promised, I'm going to go behind the scenes of the ad campaign I'm using for the pre-launch of Mayan Curse and share what has been working and what I've had to change.
I focused on Facebook ads for the pre-launch, as they are said to be among the most effective ads for board games being crowdfunded. They allow you to target your audience and get your ads in front of the people who would be most interested in your game.
So, let's talk about the strategies I've been successful with that you can use for your own crowdfunding campaign.
What to Measure
First off, I want to mention some metrics that we'll be measuring to know whether your ads as effective or not, along with other "vanity metrics" that are nice to have but shouldn't distract you.
When you're running a pre-launch campaign, your goal is to get email signups (also known as leads). You'll show your ad and you'll try to encourage people to click your call-to-action (CTA) button to "learn more", leading people to your landing page where they can provide their email address to be notified when you launch and learn more about the game.
So, you'll first want to set up an email service provider like Mailchimp (which has a free basic plan) and a landing page that is connected to this so that you can capture emails and later connect with people who signed up.
Here is my landing page for Mayan Curse for example.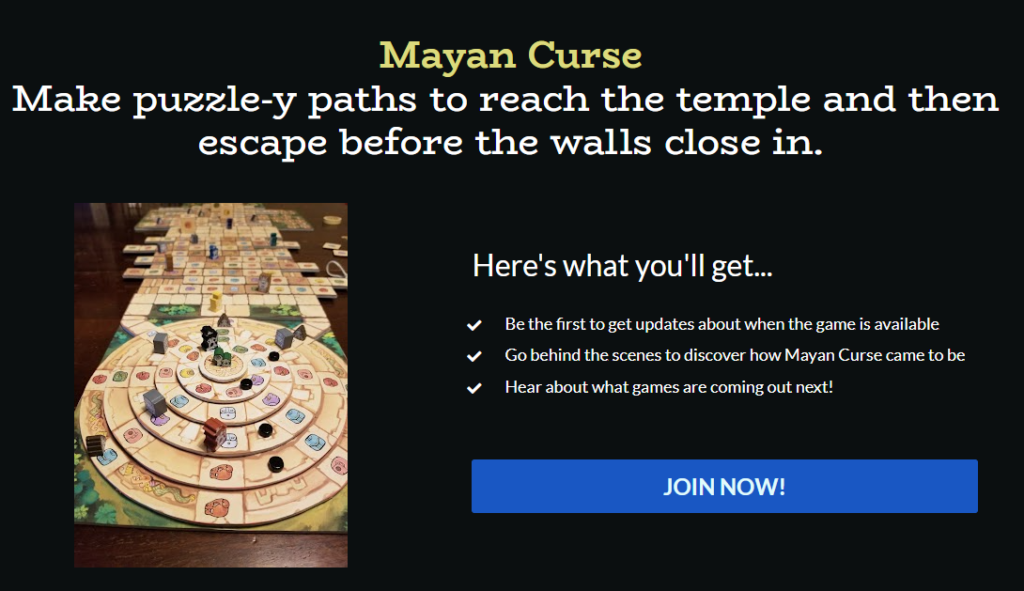 With that out of the way, back to the metrics. As I mentioned, your goal is to get signups. So, the most important metric for you is Cost Per Result (CPR). This is the amount you're spending, on average, to get one signup to your list. If you're getting a CPR below $2 US, you're doing pretty well. But there are always ways to improve your CPR, which we'll get to in a moment.
There are other metrics like Cost Per Click (CPC), which measure the average amount of money you're spending on ads for every person who clicks a link on your ad. Also, Click Through Rate (CTR), which measures the percentage of people who click on your ad when they see it.
Generally, a CPC below $0.20 US is said to be good for the board game audience and a CTR of over 2% is also a positive sign.
These can help compare different ads you're running, however, CPR should be your deciding factor.
Other "vanity metrics" such as likes, comments, and shares may be interesting to see but you shouldn't waste a lot of time on these or let them determine your approach.
What to Test
There are 4 main items you want to test in this order:
Audience
Image (or video)
Headline
Copy (text in the ad)
You want to start with the audience to make sure your ad appears in front of the people most likely to be interested in your game.
Your audience should include the following interests: 1. Board Games, 2. Kickstarter, and 3. Something related to your game.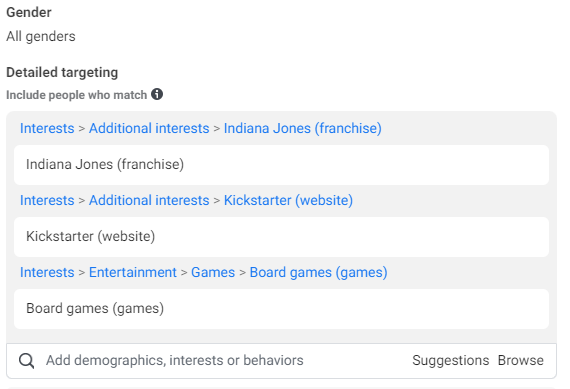 You can also focus on specific age ranges, genders, and regions of the world depending on your project, audience, and regions you will be offering your game. My first ad campaign was defaulted to only show within Canada, majorly limiting my reach, and I didn't notice this for the first few days, so watch out for this and make sure to look at all your settings really closely!
I'm going to walk you through the steps I took for my Mayan Curse ads to show you how to apply this. I used the first 2 interests above (board games and Kickstarter) and then tested my ads in front of 2 specific audiences: Indiana Jones fans and Tomb Raider fans.
I was a bit surprised to find that after 4 days the Indiana Jones audience had a much higher CPR of $3.05 compared to only $1.48 for the Tomb Raider audience. I had anticipated the game would appeal to the Indiana Jones audience more. But that's why we test! So, I paused the ads for the Indiana Jones audience and ran with the winner.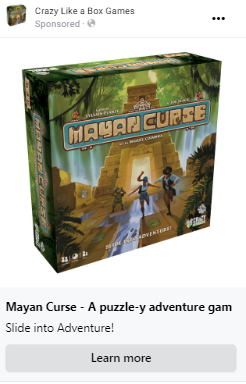 I could have tested my ad on more audiences but I couldn't identify any available interests that I thought would do anywhere as well. Besides, I was happy with the initial CPR I was getting and knew I could improve the ads in other ways.
Unfortunately, I only had the box image available when I first began my ad campaign, as I was waiting for our main Kickstarter image to be created, which I felt could perform even better. So, I continued to monitor the Tomb Raider audience ad, which I saw slowly creep up to a CPR of $2.63.
So, while I was waiting on the Kickstarter image, I decided to try another test. I made a second version of the ad that took people to my website page for Mayan Curse, which explained the game in more detail. This decision was partially due to a comment I received from someone wanting to know more about the game before signing up. I thought showing people more details about the game while giving them the same opportunity to sign up for the email list could be effective.
I ran the test for a few days and it became clear that the original short landing page was the winner (CPR of $1.63 vs. $3.80). Giving people more info didn't necessarily result in more people signing up!
By this point, the Kickstarter image was ready, so I was finally ready to test the second component: the image.
I ran the ad with the Kickstarter image and Tomb Raider audience for a few days and I was blown away. I was getting a CPR of just $1.06! That's just over a buck per signup, which is phenomenal.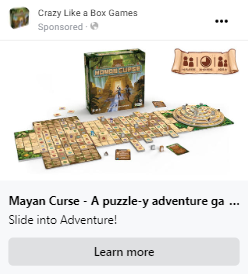 But, as I saw previously, initial results aren't often sustainable and they started to climb up.
I did some testing with a link to the contest I ran for the game but it didn't perform as well, so I focused back on the signup ads I had been running.
Now that I had a winning image though, I wanted to see if this would appeal even more to the Indiana Jones audience I originally thought would perform better. So, I went back to testing! After 4 days, the Indiana Jones audience won out head-to-head with a CPR of $2.09 vs. $2.72 for the Tomb Raider audience. However, over the entire period of time, the Tomb Raider audience had a slight edge.
The results were really up and down.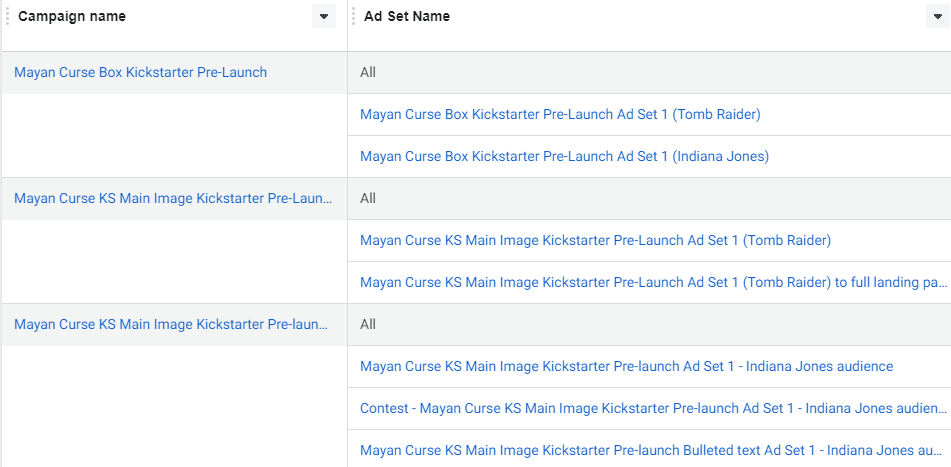 So many ad sets!
It was a tough call and I went with the Indiana Jones audience for now, but also testing the current ad vs. a copy with a different headline and a slight change to the text. We'll see how the ads do and I will continue to monitor them to see if I want to go back to the Tomb Raider audience or test anything else.
The point here is to make sure to test and move forward with the winning ad (then keep testing!). Had I just kept with the original ad and never tested other images or text, I might have been paying way more than necessary.
What's Next
I plan on updating my Facebook ads on the first day of the Mayan Curse campaign (October 24th) to direct people to the Kickstarter page rather than my landing page. I will also change the "Learn More" button to something like "Order Now" or "Shop Now." These CTAs might be two good options for A/B testing to see if one is more effective than the other.
I may also try running some ads with the Kickstarter video to see how they perform vs. the image-only ads.
I'll up my ad spend for the first 2 days and keep an eye on the results, using a Kickstarter referral link to direct people to the campaign page, so that I can more easily track the results (you can view clicks, etc. of the Facebook ads, but you'll have to check your Kickstarter dashboard to see where backers came from). If the ads are effective on those first 2 days, I will likely continue running them but may reduce my ad spend per day, as the first 48 hours are where most of the excitement happens. The last 48 hours may be another good time to bump this up and I may even pause the ads during the campaign if they aren't performing as well as expected.
I'm also going to be running BGG (Board Game Geek) ads for the first time ever, so I'm curious to see how effective they will be. Since it is a site dedicated to board games, it absolutely has the right core audience, however, some games are better suited to this crowd than others (for example, family and party games are not held in as high regard). If the ads don't perform to expectations, I'll change up the images and do more testing. Again, I will be using a Kickstarter referral link so that I can more easily track how well these banner ads are performing.

I can't wait to share more with you in the coming weeks to let you know how these different ads are performing during the campaign as well.
Next week, I'll share with you some more strategies I'm using as we get closer to the launch date.
If you'd like to be notified when Mayan Curse launches, you can do so here.