Game Design
How to Attract Tons of Backers For Your Game Using Contests
Building an audience for your game is hard.
Going to conventions costs money and renting a booth there can be prohibitively expensive.
Ads are a great way to build up engagement and an email list, but can also cost a lot of money (I'll be sharing my approach to get email signups cheaply in my article next week).
So, how else can you build up a buzz for your game that won't break the bank?
What about running a contest?
What to Offer in a Contest
People love free stuff. They may even be willing to give up their much-protected email address for a chance to win a prize… if it's something they want.
But it also has to be related to what you have to offer. In this case, your game.
Sure, people like iPads and Amazon gift cards, but if you offer prizes like this, you'll be attracting people who just want the prize and who likely have no interest in your game (they may not even play board games!).
What about giving away a copy (or three) of your game?
It won't cost you much to ship a few games and you'll likely have a bunch left over after your campaign ends anyhow. By that time, assuming your campaign was fully funded, you'll have some money available for this as well.
Plus, you'll know that people who signed up have some genuine interest in your game, so you will have targeted the right group. Why else would they be interested in winning a copy of your game?
Of course, you'll have to put in a disclaimer that the prize is dependent on your campaign reaching its funding goal, otherwise, you won't have any copies to give away! But if you've planned this well and built up your audience, your chances of getting your game funded will be dramatically improved.
How to Run a Contest
There are several platforms available to use to run contests but you can also easily run one on your own.
It all comes down to why you are running the contest and what you want to get out of it.
I've mentioned previously that email is king and I strongly feel that getting people to sign up for your email is a bigger commitment and allows you to have better-quality conversations with potential fans. So, if you're simply looking to collect more email addresses, you could easily add a pop-up or sign-up box to your website and then draw a winner or winners once the contest ends. You could share this on social media and with people who are already interested in your game.
But if you want to get even more traction, you might want to consider using a platform like Gleam or UpViral. I'm using UpViral for my Mayan Curse contest. There is a cost for these services, so you want to get a good return on investment, which is definitely possible. You can even just sign up for a month to try them out (Upviral offers a 14-day free trial as well). These services allow you to do a lot more with your contest and have your entrants spread the word further.
For example, you can assign how many entries an individual receives for signing up for the contest, posting about the contest on Facebook, following you on Instagram, or signing up to be notified on your Kickstarter preview page. You can incentivize people to take the actions you most want them to take by assigning them more entries. Then, others will see your post and may enter the contest as well. When they see a contest shared by a friend, they are more likely to trust the contest and sign up as well.
You can also assign entries for everyone who uses their unique code to enter the contest. That way, they have a greater chance of winning by telling others (and even if they don't win, maybe their friend will!).
You'll set up an image and description of your prize or prizes, include the contest details, and assign entries for the actions you want people to take, including any custom actions that are important to you.
Then, you can share this on social media, with your email list, or even use it in ads if you want to go that route.
Another option is to have someone run the contest for you. Some Facebook Groups or board game sites offer to run contests for creators. Some are affordable although Board Game Geek's contests are way out of most people's price range.
I was contacted by a gaming group in Quebec who wanted to run a contest in exchange for a copy of the game when it comes out. That sounded like a pretty great deal to me!
How I Tripled My Email Sign-ups Using a Contest
I created an UpViral contest for Mayan Curse that began on September 28th, 2023 that will run until the end of day 1 of our Kickstarter campaign (27 days in total).
Here's a picture of the page: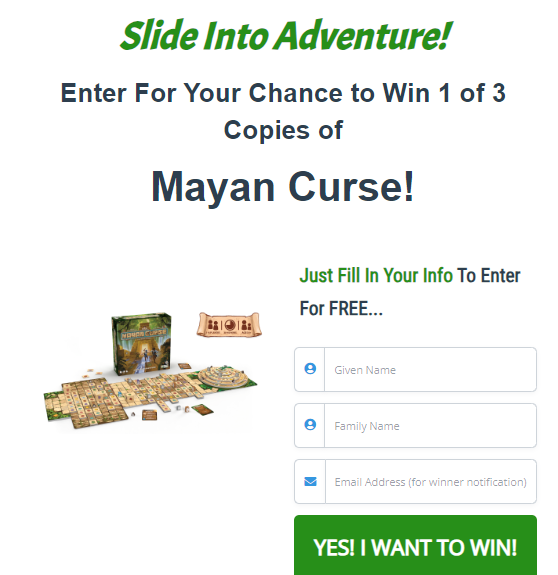 Fortunately, I had been building up my email list for Mayan Curse through ads and social media posts but I also had backers from a few previous campaigns I could reach out to. So, I sent them an email with information about the game and let them know about an opportunity to win the game. That email had a hefty 57% open rate and generated a lot of interest in the game.
I also shared this on social media. People joined and shared with their friends, and the cycle continued.
By noon on October 3rd, I already had 569 people enter the contest and had more than tripled the number of people on my email list for Mayan Curse to 667 people. I also nearly tripled the number of followers on my Kickstarter notification page to 588.
I'm going to continue to monitor these metrics and share the contest more widely. I'm even going to test out the contest through Facebook ads to see how they fare. I expect the follower list for Mayan Curse will continue to grow significantly as a result of all of these activities.
If you're interested in seeing what the contest I'm running for Mayan Curse looks like in more detail, you can view it here. If you like the look of the game, you can even enter the contest yourself. 😊
Next week, I'll share with you my ad strategy and how I was able to reduce my cost per sign-up dramatically with just a few tweaks to my ads.