Game Design
Game Mechanics: Creating a Great Solo Gaming Experience
Last week we talked about game mechanics frequently used in co-op games and how to design a great one. Many cooperative games often allow for solo play. Sometimes competitive games also include a solo variant. But there are also plenty of games that are meant strictly for one player. Solo games are a growing market, so it is important to understand how to use the right game mechanics to create a great solo gaming experience.
I also want to emphasize here that a solo variant shouldn't be an afterthought. Far too many times we've seen a game launch on Kickstarter and partway through the campaign a solo mode is introduced, either as a new addition or a stretch goal to be unlocked.
If you want your game to be playable by one person, you need to ensure that it plays well solo and has been well-tested. Too many backers have been burned by a poor solo variant that was just tacked onto a game to extend the player range and appeal to solo gamers. Backers are now very wise to this and will question whether your game truly provides a great solo gaming experience.
Whether it's because you live with others who don't share your love for games, you've moved somewhere new and don't have a gaming community, or you just love being able to take your time and work your way through a solo game, if you play solo games, you are part of a growing market and a smart designer will be thinking of you when creating their game.
This isn't to say that every game can be played solo (game mechanics such as social deduction and negotiation, in particular, require more players and would fall likely flat as a solo experience), but designers should at least be thinking about this.
I've designed a couple of strictly solo games, including my Kickstarter success, Relics of Rajavihara, and I often try to find ways to implement a solo mode in many of my other games. So, I wanted to share my experience to help you design a great solo gaming experience.
First, What Solo Gamers Don't Want From a Solo Gaming Experience
Over the last year or two, I've become involved in a number of solo gaming Facebook groups. I was surprised to see how large some of these groups are as well as the fact that there are multiple groups strictly for solo gamers. One of these groups has over 20,000 members!
One thing I've learned from other solo gamers is that most prefer objectives to simply scoring.
They would rather get to the end of the game and have succeeded or failed at completing their mission, scenario, or goals, rather than play "beat your high score."
So, try to look at ways to create an objective or even a scoring threshold that players must surpass in order to win.
Some examples of solo games with solid objectives are:
Friday (survive all obstacles and beat two sets of pirates)
Unbroken (defeat all four boss monsters)
Sprawlopolis (beat the combined score on your goal cards)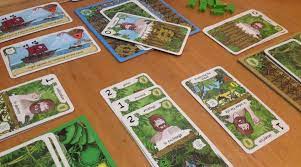 Another thing that most solo gamers want to avoid is playing multiple roles.
Sure, you can play a game like Pandemic or Forbidden Island by playing as multiple players. However, this can add a lot of cognitive load, as you have to keep track of who's turn it is, what powers each player has, and figure out the best move for multiple players rather than focusing on just one, which is a lot more reasonable.
Players also don't want to have a lot of upkeep. This goes for solo gamers as well as most players, but keep in mind that if you have an automa (an AI opponent playing against you), you want their actions and scoring to be quick and straightforward.
Many Stonemaier games, including Scythe and Wingspan, have implemented elegant automas.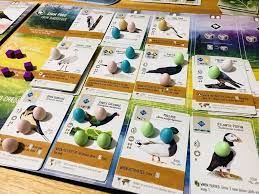 Also, make sure your game isn't too easy. Solo gamers are looking for a challenge!
What Solo Gamers WANT From a Solo Gaming Experience
Now that we've covered what solo gamers don't want from a solo gaming experience, let's look at what they actually do want.
One of the reasons that players appreciate the solo gaming experience is that they can take their time. They don't feel rushed by other players to take their turns quickly, so they can linger over their decisions more.
This means that many solo games are quite challenging. You often won't win the first time you play (or sometimes even the first five times you play!).
Instead of playing against another opponent, you are playing against the game, much like in a co-op gaming experience (however, you could instead be playing against an automa, as mentioned).
While there are some solo games or games with solo modes that are real-time and fast-paced like Fuse and Magic Maze, these are an exception to the rule (I'm actually working on a real-time co-op game that can be played solo at the moment). Most tend to provide a slower-paced experience. Many even allow you to walk away and come back to them at another time quite easily.
Puzzle-solving is a great game mechanic to implement in solo games to achieve this.
Now, puzzles can come in many different forms. Everything from figuring out the best combination or order of actions in a game, as you may see in Wingspan or Palm Island, where to best place your cards, such as in Sprawlopolis or Crystallo, or how to best manage your resources in a game like Friday or Unbroken.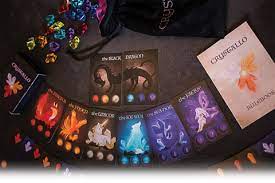 One of my favourite solo games is Maquis. It's a solo worker placement game, where you play as part of the French resistance during the Nazi occupation of France and must collect resources to accomplish 2 goals before you get to day 15. It's not a war game, rather it's a game about strategy and resource management.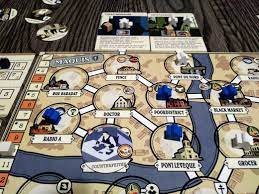 There's also a strong element of push your luck, as patrols are making their rounds on the street and you must leave an unobstructed path to be able to get your workers back to the safe house or lose whatever you've collected that round (along with having workers arrested and removed from the game).
Maquis itself provides a puzzle that you have to solve, but it is one that changes with every game.
I went so far as to create a puzzle that players have to solve to advance to the next level throughout the game when I designed Relics of Rajavihara. It's much like an NES-style puzzle game like Adventures of Lolo, Fire n Ice, or some aspects of Legend of Zelda, brought to life as a tabletop experience.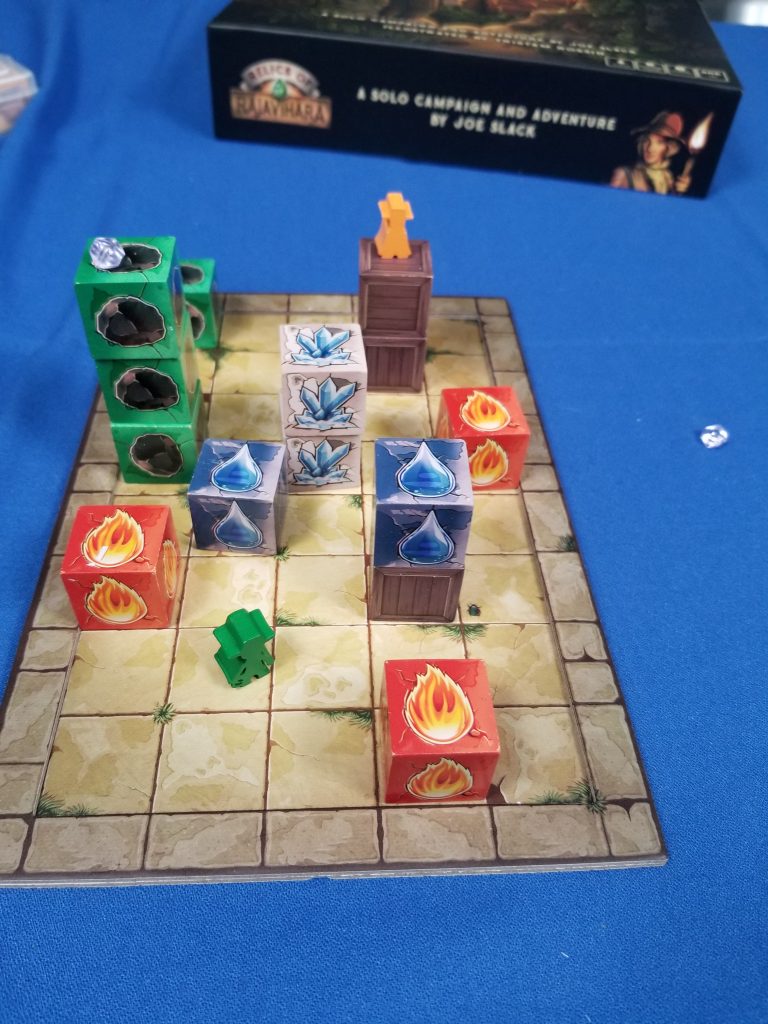 To increase replayability, I made sure that once a player beats all 50 levels of the campaign, they can return to some of the previous levels with all new combinations of challenges that will be different every time you play.
So, you can see that creating challenging objectives, puzzles for players to solve, and keeping plenty of variation in a game can create a great solo gaming experience.
Do you ever play solo board games? What is one of your favourites and why?
Please leave a comment and let me know.
Next week, we'll be talking about the game mechanics behind a great party game. Until then…