Game Design
Have you ever wondered what it's like to work for a board game publisher?
I wanted to share with you a couple of stories from my upcoming book, The Board Game Designer's Guide to Careers in the Industry, which is scheduled for release in just a couple of weeks on April 26th.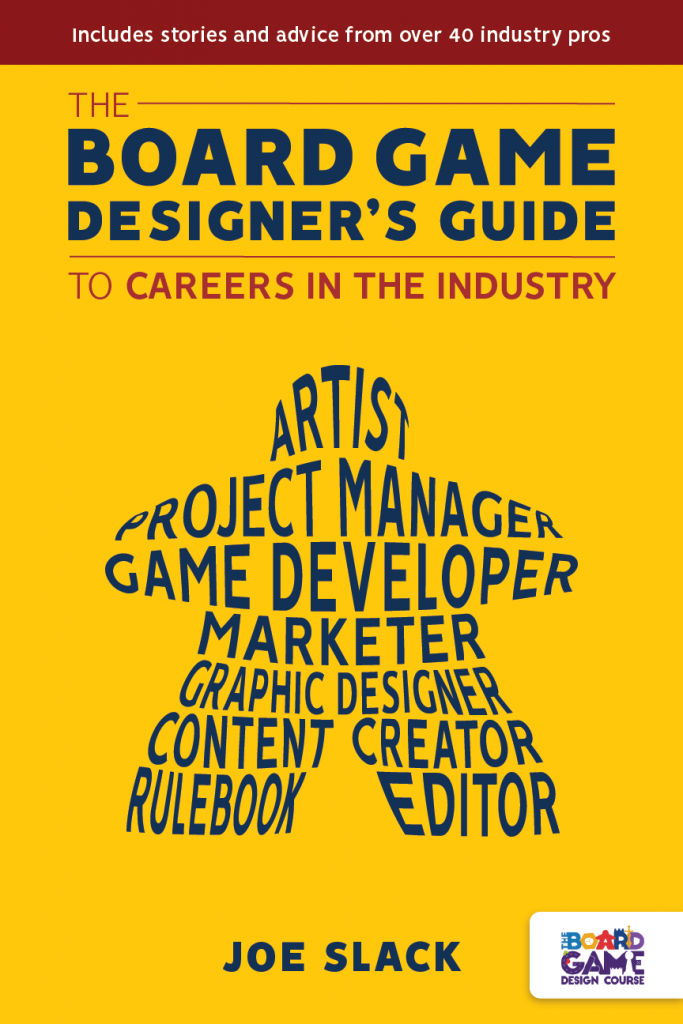 These excerpts will give you a feel for what it's like to work for a board game publisher. They will delve into some of the day-to-day activities and touch on some of the benefits and challenges in these roles.
From Accountant to Project Manager for a Major Board Game Publisher
Jean-Baptiste Ramassamy is a project manager for Ravensburger. I met him through pitching a number of my games to his company during an event called Ravensburger Inventor Days, which was a series of days dedicated to designers pitching games to Ravensburger. I asked him about how he landed this role, along with his responsibilities.
Before joining Ravensburger, Jean-Baptiste held roles in other companies as an accountant and financial auditor. His passion for board games, along with project-management skills from previous roles, helped him land the job.
He lists his responsibilities as follows:
1. Meet inventors and select games
2. Playtesting to improve game mechanics
3. Turn these ideas into products (project development)
4. Write rules
5. Commercial sheets, samples, and catalog texts/images
6. Introduce games to buyers
7.Communication strategy and tools
8. Build relationships with bloggers
Jean-Baptiste admits, "There is far more administration, box/contents sampling and small uninteresting tasks than I expected. The border between passion and work is also sometimes difficult to see." But his passion for games and ability to connect with others he admires in the industry are what keeps him going.
His closing thoughts were, "It's not about playing and making cool stuff all the time, it's a real job. Sometimes you will hate it, sometimes you will adore it!"
Sometimes it's Who You Know
Sydney Engelstein is the Director of Game Development for Indie Game Studios. I met her a couple of years ago at Origins Game Fair, when I was pitching my game, Mayan Curse, to her company.
Sydney identified networking and previous game design experience as the biggest reasons she landed her role. She had multiple games published with Stronghold Games and a good relationship with the owner, Stephen Buonocore So, when she heard that Stronghold would be merging with Indie Boards and Cards, she asked if that meant new positions would be created. It turned out she was right, and after applying for the position, being interviewed, meeting with the team, and doing some development and rulebook writing for a prototype they would be publishing, she landed the job.
Being a small company, she has had to wear many hats; among other things, Sydney does development work, project management, and writing—something she didn't anticipate when she first joined. Writing is something she enjoys, and since nobody else was really that interested, she has taken on the writing for rulebooks and marketing, which she takes delight in. She appreciates getting paid to do what she loves to do!
Sydney is also able to work on some games and expansions from the ground up. If there is an existing game in their catalogue and the owners want to develop something new in that world, she often has the opportunity to work on that project.
There's also a lot of editing, organizing, and "busy work." She admits the pay isn't great, but she loves the writing aspect of her job and working with her team, and she can also work on her own games independently—Indie Game Studios just has the right of first refusal. However, like a professional chef coming home and having to cook dinner, she rarely feels like working on a game of her own after working on other people's games all day long!
Sydney's success in landing her role goes to show that networking and experience designing games can definitely help get your foot in the door.
She strongly recommends building good relationships. "My advice would really be to network. Get a few things under your belt in your chosen field like a few published board games or a podcast for marketing or whatever will show your skills and then go to conventions and make friends and be kind and passionate and keep in touch with publishers you work with. People are far more likely to turn to a name they recognize than one they don't."
These are just two out of the dozens of insightful stories detailed in The Board Game Designer's Guide to Careers in the Industry.
What publisher do you admire and would love to work for?
Please leave a comment and let me know!